Se programmet i overblik
Dagens program i overblik. Klik på indlæggene og kom til den grundige beskrivelse.
Registrering og morgenmad
Kom i god tid til en lækker morgenmadsbuffet i Dansk Industris flotte forhal. Så kan du også møde de andre deltagere over en kop kaffe og en bid brød.
Claus Bülow Christensen
Tomorrows Next Media Consultancy
Fremtidens tv gennem 10 år
Claus Bülow Christensen ser tilbage på tv-mediets historie og gør status over de sidste 10 års FutureTV konferencers forudsigelser for tv-mediets fremtid – og sætter scenen for dagens konference.
Claus Bülow Christensen
Har arbejdet med medier og teknologi siden 1985, bl.a. i TV 2, Metronome koncernen, Tele Danmark, Framfab, GlobalConnect m.fl. Mangeårig analytiker og hyppigt citeret ekspert om den digitale medieudvikling.
Foredragsholder og klummeskribent på Ekkofilm, og stifter og tilrettelægger af Copenhagen Future TV Conference.
Ny Wilke analyse – om at forstå fremtidens medieforbruger
Wilke stiller igen i år op på Future TV konferencen med nye spændende indsigter om danskernes medieadfærd. Wilke har gennem flere år belyst udviklingen i danskernes TV-sening på Future TV, og dermed streaming tjenesternes fremmarch.
Ved konferencen i 2017 konkluderede Wilke, at hele 84% af den danske befolkning streamer levende billeder, og at dét at streame nu er blevet en naturlig en del af danskernes medieadfærd.
I år tager Wilke en ny temperaturmåling på udviklingen og bringer de nyeste tal på danskernes brug af tv- og streaming tjenester, og zoomer ind på danskernes oplevelse af det enorme udbud af tjenester og mulighederne for selv at sammenstykke sit eget "underholdningsunivers".
Samtidig sætter Wilke specielt fokus på de unge seere, for at forstå fremtidens medieforbruger og deres måde at tilgå og konsumere indhold på.
Julie Nygaard
Head of Media & Partner, Wilke
Julie er ansvarlig for medieområdet hos Wilke, og har omfattende indsigt i branchen og udviklingen, som branchen står overfor.
Julie har solid erfaring inden for markedsanalyse, og har de sidste 10 år arbejdet med kundeindsigter med henblik på at omsætte disse til strategiske udviklingspotentialer for sine kunder. Herudover er hun NPS certificeret fra Bain og Company.
Marie Nilsson
MediaVision
Streaming in the Nordics approaching saturation – how do local companies compete with US giants?

Udbuddet af attraktivt indhold til nordiske tv-seere er eksploderet siden Netflix blev lanceret i oktober 2012. Siden er også andre amerikanske streaming tjenester kommet til.
Mediavision har kortlagt udviklingen og har bl.a. konkluderet, at de største aktører, Netflix, HBO Nordic og Amazon Prime Video tilsammen tilbyder over 7.000 titler, svarende til mere end 30.000 timers indhold. Det vil tage fire år at se det hele!
Hvad betyder denne udvikling for vores nordiske tv-marked?
Få et indgående indblik i Mediavisions nyeste analyser af hele det nordiske tv- og streaming marked fra CEO, Marie Nilsson.
---
Times are changing and so is the Nordic media landscape. Digital consumers today are experiencing a greater freedom than ever before. In parallel, both traditional media companies and distributors are challenged by the US giants.
For the Nordic companies it is all about developing sustainable new strategies; which position is relevant and how to differentiate? Being a local player is clearly challenging, even more so as this highly digital market now is approaching saturation.
But there are also great opportunities, for those willing to take them. We will take a close look at:
Consumers – will they get what they want?
Content – is there a recipe for success?
Market and revenues – what to expect?
Marie Nilsson

CEO, Mediavision
Marie Nilsson is the CEO of Mediavision, a leading Nordic media consultancy and analysis company.
Mediavision helps its clients to navigate as the video industry is transforming, closely following the development for SVOD, AVOD, TVOD as well as traditional broadcast in all Nordic countries.
Clients include media owners, broadcasters, telco's, production companies, investors and collecting societies among others.
Richard Broughton
Ampere Analysis
The fragmentation of content and viewing behaviour
– and the potential for re-aggregation
This presentation will focus on analytical insights on how the premium content universe is expanding and fragmenting, with great content – and consumers – found in more places.
Are SVOD giants super-serving specific genres, like sci-fi and fantasy, and does it make them increasingly complementary to Pay TV?
Analysing the subscription habits in SVOD homes, including their use of multiple SVOD services, traditional Pay TV and Pay Lite offers
Defining the distinct categories of modern TV consumer, including the 'Content Connoisseurs', 'TV Traditionalists' and 'Super-Spenders'
The content and user experience expectations of the valuable Content Connoisseurs – content-hungry, tech-savvy, ready to self-aggregate
The likelihood that OTT apps/content will be 're-aggregated' within a gateway service, and prospects for Pay TV 'super-aggregators'
Richard Broughton

Research Director at Ampere Analysis
Experienced business analyst and consultant with a background in financial modelling, quant research and strategy.
Has particular expertise around television & online video, transactional media and fixed-line telecommunications.
Få en god kop kaffe og godt selskab i forhallen.
Adapting to the change. Television in the connected age – new players and new data.
Colin Dixon is back in Copenhagen with fresh perspectives on the most significant developments within the international industry of television and streaming.
Television audiences and engagement are declining. Those people that once spent hours glued to their favorite channel now spend their time binge viewing on SVOD services.
What can flow TV providers do to make themselves more competitive with new OTT services?
This session will look at the challenges facing the television industry and what TV companies are doing about it. We will try to answer the question: How can flow TV providers win their audiences back?
Finally, we will look at a new data from the company Conviva, characterizing how our viewing behaviors have changed over the last 3 years.
Taking a look at some fundamental shifts in the last few months, this session will cover the following companies and issues:
How Disney and Netflix are on a collision course
How MGM embraces online and looks to the studios legacy into new digital properties
Local broadcasters move online
How streaming-only homes drove a 5 million increase in subscription numbers of the US based HBO Now service
The Secret Life of Streamers – nScreenMedia and Conviva Research Study
For the last part of the session, Colin Dixon will be joined on stage by Ed Haslam from Conviva, as they launch the second edition of a true, complete census of one of the world's largest multi-publisher streaming video sensor networks.
Conviva handles over 3 billion applications/devices that generate over 15 billion viewing hours per year. nScreenMedia analyzed Conviva data to learn how people's viewing behaviors change across dayparts, devices, and locations. There will be a special section on Scandinavia.
Colin Dixon
Owner and principal analyst, nScreenMedia
Colin Dixon is a well-known analyst specializing in Digital TV, Over-the-Top and IPTV for nScreenMedia which he founded in 2013.
Over the last 15 years he has held senior executive positions at Microsoft/WebTV, Liberate and Oracle delivering products and services to the Cable, Satellite and IPTV industries.
Moderated by
Colin Dixon
nScreenMedia
Four analysts have given their distinct views on the state of our industry and where it is headed.
In this session, we invite the morning presenters back to stage for an open discussion of their conclusions.
Colin Dixon will moderate the debate and work to draw out the most important things we have learned in the morning session.
In this panel:
Julie Nygaard
Wilke
Marie Nilsson
Mediavision
Richard Broughton
Ampere Analysis
Colin Dixon
nScreenMedia
Frokostbuffet i forhallen
Vi byder på en rigtig god frokostbuffet i Dansk Industris flotte forhal.
Doug Clark
WW Lead – Watson & Cloud Platform, IBM
Are you an opportunist or a victim?
Empowered consumers living in an increasingly digital world are expecting and demanding more from an industry that is facing rapid adoption of connected devices and increasing numbers of apps, which are influencing how users consume media.
To thrive amid the chaos of change, Media & Entertainment industry leaders must be smarter in how they approach data, more specifically implementing AI such as IBM Watson.
Today, many of these conversations are broadening, as cognitive computing is touted by some as revolutionary for media, entertainment and society in general. Cognitive-based systems can build knowledge, understand natural language and provide confidence-weighted responses at cloud speed.
Machine learning systems can quickly identify new patterns and insights, giving M&E industry leaders improved capabilities to discover, decide and engage. Increased engagement between M&E companies and their audiences can improve communication and collaboration, which in turn can aid development of more tailored and effective services and better customer experiences.
An environment is created in which hard earned experience parsed with new tools and insights allows an industry to pivot and so, "The Empire Strikes Back" against the so-called "industry disruptors".
---
Cloud offers uncompromised agility and in parallel, IBM's AI, known as Watson, can help expose and act upon deep business insights for competitive advantage.
With nearly 20 years of International experience in IT and including some 8 years leading IBM Cloud, Doug has seen and helped tackle most industry issues and brings SME passion to drive TM&E forward despite the exciting turbulence and threats from emerging disruptors.
A Serial Intrapreneur, prior to joining IBM via PwC, Doug's held Director roles in Marketing, Sales, Distribution and Process Improvement in 2 industry Blue Chips, so brings experience that underpins his passion in Tech and his eminence as a Cloud thought leader – Doug won Cloud Personality of the Year in the 2016 UK Cloud Industry Awards.
Doug Clark
WW Lead – Watson & Cloud Platform, IBM
Doug Clark (@cloudstuff) is global leader for IBM's AI and Cloud Platform business across Media and Entertainment industries.
He's on a mission to help these businesses pivot and unlock the full power of Cloud and AI technologies enabling them to achieve their full business growth potential.
Virtual Reality – en del af fremtidens tv? – Del 1
Virtual Reality har udviklet sig omfattende de seneste år og er ofte blevet spået at blive det næste altopslugende medie, når vi en dag bliver træt af tv.
Men hvor langt er teknologien nået, og hvad kan vi forvente i fremtiden? Hvordan arbejder man egentlig med at udvikle virtual reality produktioner? Og hvad sker der på hardware markedet for VR, hvad skubber udbredelsen af hardware?
Det danske firma Virsabi har udviklet en lang række prototyper på forskellige virtual reality platforme og teknologier og giver os et indblik i, hvad man kan med teknologien.
Virsabi vil have en virtual reality udstyrs opstilling i forhallen, hvor deltagerne på Copenhagen Future TV Conference får mulighed for selv at prøve nogle af dagens virtual reality muligheder.
En af de cases Virsabi har med, er et samarbejde mellem Bang & Olufsen, den danske artist Oh Land og Virsabi. En in-store virtual reality marketing aktivitet, som vi også skal høre om – og opleve.
Michael Harboe
CEO, Virsabi
Michael Harboe er CEO og stifter af den danske virtual reality virksomhed Virsabi. Han har en lang karriere indenfor digitalisering og digital transformation af store danske brands.
I dag er han iværksætter, og med Virsabi arbejder han med kommerciel udnyttelse af de nye virtual reality medier.
Martin Wichmann Andersen
Los Angeles, California
Virtual Reality – en del af fremtidens tv? – Del 2
Martin Wichmann Andersen har skabt, skrevet og produceret VR 360 serien Campfire Creepers, instrueret af gysermesteren Alex Aja (The Hills Have Eyes), og med bl.a. Robert Englund (Freddy Krueger i Nightmare on Elmstreet filmene).
Det er det første større projekt der bruger den dramaturgiske fortælleform til at bringe fremtidens ultimative oplevelse til seerne. En altopslugende Virtual Reality (VR) oplevelse, hvor man selv befinder sig midt i handlingen.
Campfire Creepers havde premiere i april måned på årets Tribeca Film Festival i New York og er produceret af det førende VR firma Oculus.
360 grader VR video er ikke en interaktiv oplevelse som f.eks. computerspil med VR, men en traditionel produktion som film, dokumentar og sport, hvor man som tilskuer fuldstændig kan indleve sig i fortællingens univers.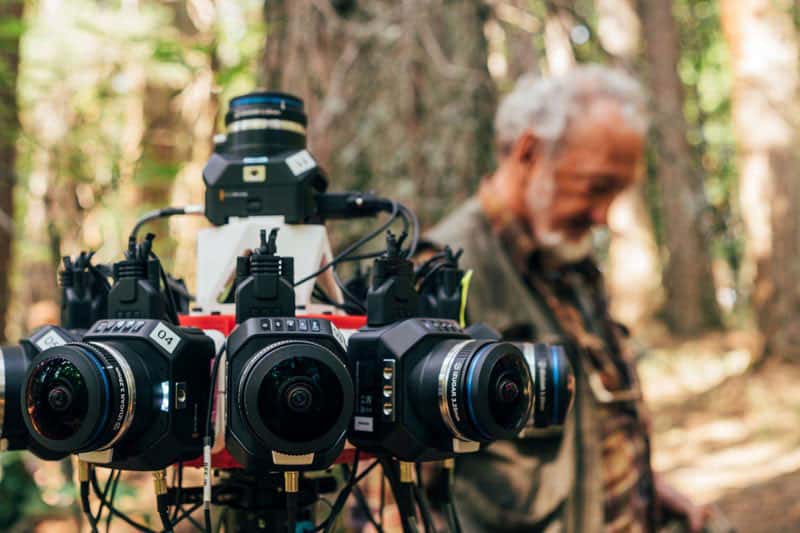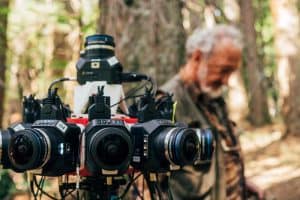 Mediet er stadig i et tidligt stadie, men på Martin's indlæg skal vi høre hvorfor han er overbevist om, med sine erfaringer fra film- og tv industrien, at der her ligger et kæmpe potentiale for fremtidens tv.
Martin Wichmann Andersen
Film & TV Director / Writer / Editor / Teacher
Martin har arbejdet som instruktør, manusforfatter, klipper og fotograf i den danske TV branche siden 1995 før han flyttede til Los Angeles i 2009.
Efter at have afsluttet sin instruktøruddannelse på The American Film Institute (AFI), skrev og instruerede han spillefilm og TV serier for bla. Google, Blackpills og Fireaxe Pictures.
Han har for nyligt solgt sin TV serie HATE til A&E Networks og skrevet og produceret 360 VR serien CAMPFIRE CREEPERS som er instrueret af gysermesteren Alexandra Aja.
Ole Christian Madsen
Creative Alliance
Danske filmfolk og den internationale streamingudvikling
Vi har inviteret den danske filminstruktør Ole Christian Madsen til en samtale om hans oplevelse af streaming tjenesternes udvikling, sat i perspektiv til hans mangeårige erfaringer som instruktør af markante spillefilm og tv-serier i både Danmark og i USA.
Man taler om en golden age for tv-serierne, og vi ser streaming giganterne tiltrække de største kreative personligheder – også de danske. Film- og tv industrien er midt i et paradigmeskifte, hvor spilleregler ændres, og det har stor betydning for produktionsmiljøet.
Men hvad er skidt, og hvad er godt? Hvordan er det at arbejde med amerikanske tv-serier i forhold til danske tv-serier og spillefilm? Vil den store efterspørgsel på film- og tv talent dræne Danmark for de bedste navne? Og i hvor stort omfang vil de store streaming giganter mon investere i produktion af film og tv-serier i et land som Danmark?
Ole Christian Madsen

Filminstruktør, Creative Alliance
Ole Christian Madsen er kendt for bl.a. DR tv-serien Edderkoppen og film som Flammen og Citronen, Nordkraft og Steppeulven, og han har arbejdet i USA en årrække, især på HBO serien Banshee, både som instruktør og kreativ ansvarlig showrunner.
Ole Christian er i dag medejer af det uafhængige danske produktionsselskab Creative Alliance, sammen med bl.a. Per Fly og Lone Scherfig.
Få en god kop kaffe og godt selskab i forhallen.
Niels Breining
BreiningConsult
Læring fra de seneste årtier
Niels Breining er en af den danske tv-industris mest erfarne personligheder.
Gennem mere end 14 år har han sat sit præg på danskernes tv-hverdag som chef for YouSee, og selv om han stoppede i TDC for snart fem år siden, har han ikke sluppet sit tag i tv-branchen, hvor han ofte dukker op i forskellige sammenhænge..
Senest har Breining været medlem af det såkaldte Thomas Riis udvalg, der for Kulturministeriet så nøje på den fremtidige finansiering af dansk, digital indholdsproduktion.
På dette indlæg giver "den gamle mand fra Jylland", som han ynder at kalde sig selv, sit åbenhjertige syn på udfordringerne for det danske tv-marked anno 2018 – om læring fra de seneste årtiers succesfulde opbygning af markedet også kan være relevant for mediepolitik og tv-forretning i omskiftelige streaming tider.
Niels Breining

BreiningConsult
1979 økonom i økonomiafdelingen hos Jydsk Telefon, Aarhus. 1982 leder af kontrol- og planlægningsafdelingen hos Jydsk Telefon. 1991 divisionsdirektør med ansvar for bl.a. mobil, kabel-TV og telefoni. 1995 skovbrugsdirektør i Hedeselskabet.
1996 økonomidirektør i Tele Danmark Erhverv. 1999 administrerende direktør i Tele Danmark Kabel-TV (siden YouSee) frem til 1. juli 2013. 2008-2013 desuden medlem af TDCs direktion.
Ordstyrer:
Søren Cajus
Chefkonsulent, DI Digital
Afsluttende paneldebat: Dilemmaer for dansk mediekultur
Konferencen har i løbet af dagen præsenteret en række både lokale og internationale analyser af tv- og streaming udviklingen, brugeradfærd og pengestrømme, og debatten vil perspektivere dagens input til den aktuelle mediedebat i Danmark.
Er det bedre at samle støtten til en stærk uafhængig institution (DR) som har muskler, eller er det bedre at konkurrenceudsætte og bringe flere aktører i spil?
Giver udenlandske investeringer (Netflix og HBO) et nettoløft i finansiering af DK-produktioner, eller betyder giganterne, at der samlet set investeres færre penge?
Bliver danske medieproduktioner en udviklingsliga ligesom superligaen, så vores største talenter vil søge udenlands, når de bliver dygtige nok?
Debatten vil fokusere på dansk mediekultur og medieforretning i en tid, hvor amerikanske indholdstilbud har nået kolossale højder, og hvor amerikanerne nu også producerer højt profilerede tv-serier på dansk grund, samtidig med at dygtigt talent forlader Danmark, for at arbejde for især amerikanske producenter og streaming services.
Vi har inviteret til en debat mellem markante repræsentanter for dansk mediepolitik, dansk tv-distribution og infrastruktur og den danske tv- og film industri.
---
Politikerne: Mogens Jensen, medieordfører for Socialdemokratiet og Mads Fuglede, medieordfører for Venstre
TV-direktøren: Ulf Lund, direktør for BoxerTV, ejet af infrastrukturselskabet SE
Filmproduceren: Kim Magnusson, M&M Production
---
Ordstyrer: Søren Cajus, chefkonsulent, DI Digital
---


Deltagere i paneldebatten
Mogens Jensen
Medieordfører for Socialdemokratiet
Mads Fuglede
Medieordfører for Venstre
Ulf Lund
Direktør, BoxerTV
Kim Magnusson
Filmproducer, M&M Production
Afrunding af konferencedagen ved Claus Bülow Christensen, efterfulgt af
Jubilæumsreception i forhallen
Vi byder på øl, vand og vin og lidt sødt og salt i Dansk Industris forhal.
Bliv hængende og snak om dagens mange indtryk med de andre deltagere, hæng ud med talerne og prøv noget Virtual Reality fra Virsabi.